Thrace is the twelth area, coming from Parthia and does not lead to another area.
In this area the NPC are from level 95 to ?.
Thrace reward
Edit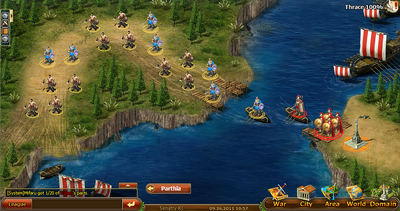 Shield of Dread
Thrace NPC order
Edit
Scout I
Scout II
Scout III
Scout IV

Julianus

Cassius

Vanguard I
Vanguard II
Vanguard III
Vanguard IV

Batiatus

Casca
Main Force I
Main Force II
Main Force III
Main Force IV
Thrace Legions (3 min[1], 8 max; 1300 exploits; 10 enemies; chance of rare item drop: ? ; ? ; ?)
Thrace ingame introduction
Edit
The enemy's main force dug in Thrace and blocked your expedition to the North when they heard that their vanguard had been eliminated. You were determined to tear down the barrier in your own way. Prepare the offerings to Mars, call out the soldiers and declare war!
↑

These teammembers are only family or league members!