Parthia is the tenth area, coming from Armenia and leads to Thrace and Italy after defeating Arsaces.
In this area the NPC are from level 89 to 102.
Parthia reward
Edit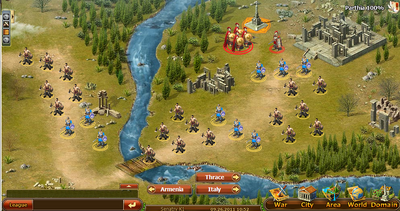 Nightingale (Lvl 38 ;RS Offence +193)
Parthia NPC order
Edit
Scout I
Scout II
Scout III
Scout IV
Scout V
Scout VI Artabanus Pacorus Vonones
Vanguard I
Vanguard II
Vanguard III
Vanguard IV
Vanguard V
Vanguard VI Orodes
Mithridates Musa
Main Force I
Main Force II
Main Force III
Main Force IV
Main Force V
Main Force VI Phraates Phriapatius

Partian Legions (3 min[1], 8 max; 1200 exploits; 10 enemies; chance of rare item drop: barrage: red ; level 80 equip ; weapon)
Parthia ingame introduction
Edit
The winning of the Rhodes, battle brought you more leverage in the ruling class as well as more responsibility. The Senatus assigned you an exceptional mission to advance southwards with Parthia as the target, which is the richest kingdom in the East!
↑

These teammembers are only family or league members!