Apennines is the first area, it leads to Macedon after defeating Spartacus, it will also allow you to relocate your city to Rome.
Apennines reward
Edit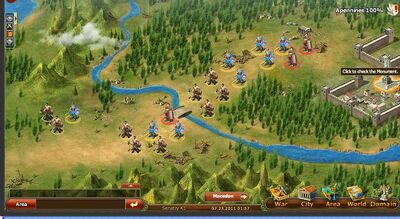 White horse
(RS off 71; lvl 8)
The area of Rome will be open on the world map.
Apennines NPC order :
Edit
Vanguard I
Vanguard II
Vanguard III
Gracchus (chance of item drop: Cane cuirass: def 21; lvl 0)
Crixus
Barca (NPC boss; units: Poisoner; RS: Circuity; chance of item drop: Stone axe: off 21; lvl 1)
Main Force I
Main Force II
Main Force III
Marin Force IV
Antoninus
Marcellus
Tigranes
Oenomaus
Doctore (NPC boss; units: Light chariots; RS: Rage Points leech; chance of item drop: Stone spear: off 25; lvl 3)
Castus
Spartacus (NPC boss; units: Force shielder; RS: Guard; chance of item drop: Bronze dagger: off 30; lvl 4)
Apennines ingame introduction
Edit
As the Big Three split, most garrison troops in Italy began to turn over to their neighbouring Families. However, there were still a considerable number of troops who did not acknowledge any of the three families' rule. Led by a group of fugitive gladiators, this rebel troop expanded and grew up rapidly. For you, who have freshly graduated from school, defeating the rebel troop is just a great opportunity to demonstrate your wisdom and strength.